Window Treatment: Window Treatments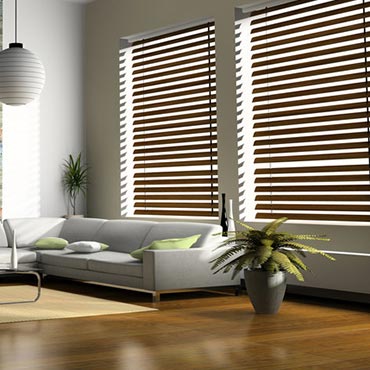 Window treatments are a quick, simple and affordable way to transform the whole look and feel of an interior space. Fresh paint, wallpaper or new furniture will work nicely too, but changing the window treatments offers an immediate visual reward that you can easily do it yourself. There are countless ways to decorate with window treatments. Some of the choices include: vertical blinds, draperies, wood shutters and roller shades.
Here are some of the things you should take into consideration when choosing window treatments.
What is your style? Some popular styles of window treatments are: casual, contemporary, early American, European, formal, modern, rustic and traditional style. Window treatment styles are always changing, so unless you want to be a slave to fashion choose window treatments that you personally enjoy and are comfortable with. Another consideration is if there are children running and playing around the house. Think safety first when there are kids in the house. There are definitely some the wrong choices out there where children are concerned.
What is the focal point of the room? You may prefer to have the focus of the interior space be away from the windows, and toward, for example, a colorful rug, a piece of furniture or a wall hanging, the apparent color choice of window treatments is neutral or a natural color, with a relatively uncomplicated style. Depending on your preference, plain curtains can be tied back in the middle, up high or down low. Even a simple style, however, can be charming and pleasant.

Some decorators and designers prefer the focus to be on the windows treatments themselves, to contrast or complement neutral color in their furnishings, or to accentuate a beautiful view out the window. Perhaps, an additional color or a trendy style in the window treatments is called for. Layering a top window treatment over a sheer or a curtain, for example, definitely makes more of a statement at the window.

What manner of interior space are you working with? You should take the location of the room into consideration. A northern exposure brings in consistent light but could subject your room to the cold, driving up your heating bills. Since 40% of heat escapes through windows, consider a lined or insulated curtain, or a fabric shade can help with your heating bills. Southern facing windows are the best for consistent, natural light. To filter and soften the incoming light, sheers or laces give off a magnificent effect and lend themselves adequately to layering. Eastern facing windows offer early morning light but heat up the interior space quickly. There are selections that will diffuse the sun before it comes in, such as pleated or cellular. Western facing windows are the nastiest for letting in harmful UV rays and you should consider energy-saving window treatments.

Colors in window treatments always play a fundamental function in your overall decorating proposal. It's traditional today to mix whites and naturals, or solid colors with prints and stripes. Warm shades pinks, yellows and reds will add excitement to a quiet room. Cool colors -- blue, white or grey are peaceful tones. Greens and browns are pleasant earth tones. Pick colors that make you feel comfortable and that complement or coordinate with the other colors in the space.

Curtain length is yet another consideration. Floor length curtains normally provide a more formal feeling to the interior space. To visually lengthen a window and add perceived height to a room use long curtains. Shorter curtains, to the window sill, to the apron, or between the apron and the floor, feel more relaxed and informal. Holding curtains back with hardware, rope or fabric tiebacks can visually widen a window.
Brand Overview
---

For half a century, Hunter Douglas has created innovative and beautiful window fashions. From the first flexible aluminum blind and the first honeycomb shade, to the revolutionary Silhouette and Vignette window shadings - combining the best features of blinds, shades and draperies.